For many years, J. Richard Finlay's op-ed columns regularly appeared in The Globe and Mail. They continue to be cited and quoted in books, scholarly articles and commentaries around the world.  Here is his latest letter in the Globe.
Illuminating the evolution of private enterprise and public trust over four decades. The Finlay Centre for Corporate  & Public Governance is the first and longest running think tank of its kind capturing the promise of the well-governed organization and the ethical practices that shape it.
"Sound governance is not some abstract ideal or utopian pipe dream. Nor does it occur by accident or through sudden outbreaks of altruism. It happens only when leaders lead with integrity, when directors actually direct, when ethical values are the sunlight that illuminates all decisions and when major organizations are held to the highest standards of accountability by vigilant stakeholders and informed individuals."
J. Richard Finlay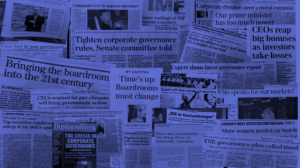 We work with diligent, forward-thinking  directors and trustees to advance the agenda for the new boardroom of today: diversity at the table; sanity in CEO compensation; ethics that gleam with integrity and leadership that stands as an unrelenting champion of hope for all stakeholders.  And stakeholder capitalism, of course. We invented the term four decades ago.