BUILDING A BETTER TOMORROW
 The values and commitments that led to The Centre's founding four decades ago drive its agenda for the future.

Too many boards remain captives of powerful CEOs. Compensation is still skewed toward short-term goals. Boards justify too many pay decisions by calling them an exercise in discretion. Others call them a descent into fantasy land.
The public sector, including municipal governments, has yet to experience the groundswell of discontent-driven rethinking that corporate boards did some years ago.  It will. The regulatory capture mindset of public agencies, boards, commissions and professional disciplinary bodies is the tip of an iceberg of underperformance and lack of accountability that calls out for change. Incursions on individual privacy remain at unacceptable levels in society, exacerbated by weak enforcement mechanisms at the government level and hobbled by the lobbying power of industry interests. The Centre continues its founding role as one of the world's foremost champions of stronger privacy standards, with tough laws, backed up with teeth, to ensure compliance.
For too many, access to the levers, accoutrements and benefits of power remain elusive, leaving the widening impression that it is, at the end of the day, a rigged system. Accountability and fairness need to more than  ornaments on the Christmas tree of the top income-earning postal codes.
Diversity of voice, gender and colour at the table remain a systemic challenge in too many boardrooms and in other centres of power. The evidence of these missing voices abounds throughout society. The Centre hears the voices that too often are forgotten.
Our agenda on these and other points is pretty fully at The Finlay Centre for Corporate & Public Governance. We invite others to step and partner with us in creating the conditions that will hurry change.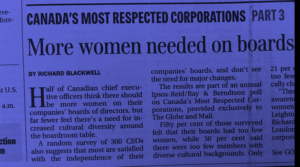 The Finlay Centre for Corporate & Public Governance is proud to directly support The ZeroNow Campaign, PatientProtection.Healthcare, The Center for Patient Protection, and The Campaign to Bring 988 to Canada. These game chaning organizations save lives by providing one-to-one support to victims and survivors while advocating to advance conditions to curb gender equity and sexual violance in the workplace, reduce the cost and harm of medical errors in the healthcare setting and deliver improved mental health and suicide prevention services.
How Could that have Happened?
As the Barings saga unfolds, it will doubtless reveal the existence of warning signs that should have been heeded by management and the board, weaknesses in the bank's accountability structure that no prudent firm should tolerate and excesses in behaviour of the offending trader that should have sent up red flags everywhere.  And people will say, as they always do in such cases, How could that have happened?  The answer is that until boards and top management become serious about business ethics, and realize that it is survival ethics, such catastrophes cannot but continue to occur. 
— J. Richard Finlay Business ethics not a soft issue, it's a matter of survival,  Financial Post.
"Stakeholder capitalism, Mr. Finlay said, is based on the straightforward idea that what corporations do, or do not do, has a heavy influence on matters that are society's most pressing concerns – the health of customers and workers, the livelihoods of employees and whole communities, women's equality, causes such as the freedom of blacks in South Africa, environmental safety, and the integrity of financial and capital markets.  Accordingly, it is felt that the same constituencies have a stake in the kind of decisions corporations make and how they make them."
Corporate Ethics a Concern for All,  The Globe and Mail.